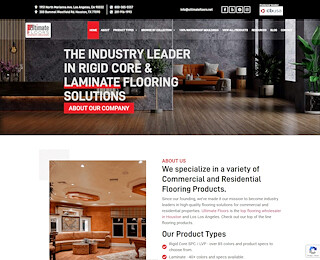 You're shopping for cheap water proof flooring but want the best value for your money. Check out the incredible products available from Ultimate Floors- materials guaranteed to withstand high humidity conditions and spills of all kinds. Our inventory of laminate and SPC flooring offers positive proof that you don't have to spend a lot of money to cover the floors in your home with beautiful, long-lasting flooring- we offer the best cheap flooring options on the Web.
100% Waterproof SPC & Laminate Flooring
Unlike flooring materials of the past that offered water 'resistance', today's SPC and laminate materials are 100% waterproof, capable of taking on your biggest spills without warping or buckling over time. The good news is that flooring prices have stayed relatively stable over the years; at Ultimate Floors, you'll pay about the same for these superior quality products as you would have paid decades ago for lesser quality materials. Our cheap water proof flooring is designed to fit every budget.
Browse Cheap Waterproof Flooring Online
Shop for beautiful flooring from the comfort of your home when you visit Ultimate Floors. You'll find so many different styles to choose from in our SPC and Laminate collections- flooring that looks identical to real wood at a fraction of the cost. If you need assistance selecting the right product for your home, office, or workplace, reach out to a UF flooring specialist and we'll be happy to help. We specialize in custom orders and large quantity orders and are able to save you a lot of money on your flooring project.
The Best Discount Vinyl Flooring on the Web
Vinyl flooring has certainly come a long way in recent years, in fact, it has easily become one of the most popular options in home flooring due to its affordability and durability. What was once regarded as an inferior product has been improved upon by manufacturers and now offers customers an exceptional value when investing in home flooring. Shop and save on the following SPC vinyl collections:
Richwood, featuring 5.5mm thickness, 100% waterproof, 12 MIL wear layer, and 1.5mm high-density EVA underlayment attached. Available in Night Shadow, Meadow Wood, Whisper, and Apache.
Smokey Forest, featuring 6.5mm thickness, 100% waterproof, 20 MIL wear layer, 1.5mm high-density EVA underlayment attached, real wood-like texture, and rare wide-plank design. Available in Driftwood, Macaroon, Monsoon, and Saddle.
Star, featuring 6.5mm thickness, 100% waterproof, 20 MIL wear layer, 1.5mm high-density EVA underlayment attached, and 9" width design. Available in Capella, Rigel, Sirius, and Vega.
Cheap Flooring Ideas
Feel free to reach out to an Ultimate Floors specialist who can help you look at inexpensive waterproof flooring options for your living room, bathroom, home office, laundry room, bedrooms, or commercial space. Cheap water proof flooring comes in a wide assortment of colors, textures, and styles, in SPC vinyl and laminate, when you shop for beautiful flooring at Ultimate Floors. Call us for the #1 superior quality flooring products: 1-800-385-5557.