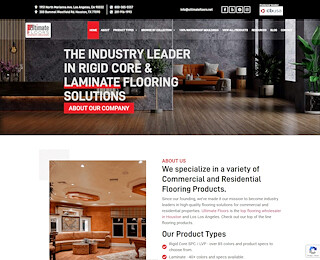 Ultimate Floors has a reputation for being the best place to buy 100 waterproof flooring options. It is natural for consumers to have questions when exploring new products. At our company, we highly encourage shoppers to ask as many questions as they wish. Information is crucial when making any purchase decision.
Common Questions Regarding the Best Waterproof Flooring Options
We compiled a comprehensive list of frequent questions regarding the waterproof vinyl flooring products we offer for your benefit. If you have any other questions not addressed here, please seek help from our customer service and support team.
Is vinyl flooring 100% waterproof?
All of the vinyl flooring products offered at Ultimate Floors are one hundred percent waterproof. Vinyl flooring is massively popular because it is durable, waterproof, and easy to install. Backed with a full warranty, you can expect protection from all watery elements.
What is the best waterproof flooring?
The best waterproof flooring for each consumer varies significantly. Vinyl flooring is waterproof, but other laminate materials suffice. Each product we offer at Ultimate Floors is designed to provide aesthetic appeal, but our products are created to protect all elements. Durable flooring that is waterproof and eye-catching is desirable.
Is waterproof flooring really waterproof?
At Ultimate Floors, if we say our products are protected from water, we mean it to the fullest extent. You won't have to worry about your subflooring once you apply our waterproof flooring materials. It is possible to choose affordable flooring options that offer complete protection.
What vinyl flooring is waterproof?
Any vinyl flooring materials found at Ultimate Floors are waterproof and durable. Vinyl flooring is an affordable option for all living spaces. Even commercial businesses can benefit from the protection that vinyl flooring can offer. Our company does whatever we can to provide the best choices around.
Is waterproof flooring environmentally friendly?

Our company understands the importance of reducing the size of our carbon footprints. Products at Ultimate Floors are sustainable, waterproof, and environmentally friendly. We utilize ethical business practices and moral values to enhance the integrity of our brand and our products.
Does Ultimate Floors offer warranty coverage?
Yes, we do offer warranty coverage on our flooring options at Ultimate Floors. Most materials have a twenty to thirty-five-year product guarantee that we will gladly honor. You won't have to deal with a hassle or any stress when putting the warranty coverage to fair use.
Is waterproof vinyl flooring safe for pets and children?
All waterproof flooring materials from Ultimate Floors are safe for pets and children. In addition to being entirely safe, our vinyl flooring is scratch resistant. Your pets won't damage your flooring!
Number One Superior Quality Flooring Products Now Available
An educated shopping decision is likely to provide numerous benefits. If you are interested in learning more about our line of products at Ultimate Floors, don't hesitate to contact us. Our staff is readily available to provide answers and guidance related to our flooring products. Give us a call today at 1-800-385-5557 to buy 100% waterproof flooring materials.