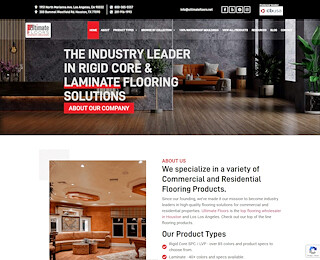 Choosing a  flooring wholesaler is one of the most important decisions to make just before flooring installation. This is because if you happen to choose one that's unrivaled in their services, you'll reap the fruits of it. But, if you select one with wholesale flooring services that are far from perfect, you wouldn't be too pleased with the results.
But, how do you choose a leading wholesaler out of the numerous wholesale flooring manufacturers out there?
What are the things you should consider before choosing your wholesaler?
1. Quality of work
This is perhaps the most important factor for you to consider before you eventually decide to work with a flooring wholesaler. How good is their work? Can their flooring stand the test of time? Among other things, you want to be sure that their floors are scratch-resistant. This is especially important if you need flooring for a residential building with pets.
Alongside that, it would be useful if your floor is water-resistant. That way, when you spill a drink, you can easily clean it up instead of worrying about the liquid slowly ruining your flooring.
2. Styles and designs available
Right next to the quality of their work, one more thing an ideal wholesale flooring company should have is a wide variety of designs. This will give you numerous options from which you can make your decision. Here, the choice is mainly up to you because only you can what styles and designs suit your taste perfectly. Nevertheless, the company should have enough for you to choose from.
3. Pricing
Another essential factor to consider is pricing. Without a doubt, we can say that your wholesaler should have the best pricing on flooring options for you.
Now, this doesn't necessarily mean they should be the cheapest. It simply means that their price should be equal to the value and quality of their product. It shouldn't be exorbitantly high. When you're sure that this is the case, you can then try to reach a compromise between their price and your budget.
4. Certifications
In the corporate world, there are a lot of regulations and guidelines. While they might seem like a bit of a burden, they are, in fact, there to protect you. So, before choosing your wholesaler, find if they're certified for the job they're doing.
5. Environmental friendliness
Discount flooring is excellent, but the ultimate flooring wholesaler is one that takes care of the environment. Before you pick your wholesaler, make sure that their products, services, and modus operandi are sustainable. The last thing you want to do is becoming an accomplice in hurting the planet.
Choosing the best flooring wholesaler doesn't just impact your finances. It goes beyond that and has a significant effect on the flooring you'll have to use in your home/office eventually. As we mentioned earlier, you need to select a wholesale flooring company that is second to none.
Our company is an example of that, and it would be an excellent idea to consider us for your flooring needs. Are you thinking about it already? Contact Ultimate Floors for the #1 superior quality flooring products 1-800-385-5557, and we'll get you started right away!