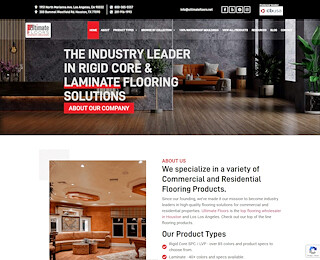 Laminate floors simulate the look of different natural hardwood materials and come with an extremely durable finish. Today, these floors are a popular alternative to real hardwood. Laminate floors are perfect for many rooms in your house, including the kitchen, hallway, bathrooms, and family spaces. They are also suitable for an active home. Laminate floors can withstand a lot of traffic and still look as good as new. What's more, they provide a much healthier and cleaner environment compared to carpets that require frequent cleaning cycles. If you're looking for grey waterproof laminate flooring, we got you covered.
At Ultimate Floors, we've got plenty of amazing options to match every lifestyle and taste. Grey will look chic and sophisticated in any home. Our range of grey water proof flooring will not only look great, but they also come at competitive pricing. Plus, they are waterproof, making them perfect for just about any space.
Get Free Samples
With hundreds of colors and styles of grey water-resistant laminate flooring to choose from, it can be hard to decide the type, style, and color that is right for every room. One of the ways to determine which product will work best for you is by ordering free samples. At Ultimate Floors, we provide free flooring samples to our clients. That way, you are able to see the actual colors and quality of our grey waterproof flooring from the comfort of wherever you are before you commit to purchasing. This is especially crucial for seeing how the color will look depending on the lighting of different rooms. 
Rooms that receive only a little light can make the flooring appear darker than you expected. On the other hand, spaces with plenty of light may make the product appear lighter than they do from a photo or online.
Getting the samples of the flooring you intend to buy is also a great way of ensuring you are happy with the aesthetic, quality, and feel before committing to such a big investment. At Ultimate Floors, we are dedicated to providing our clients with second to none products at incredible prices. Thus, you can be confident you'll get the flooring you need without any disappointment.
Request A Personalized Consultation
Not sure which flooring style to go for? Do you need color suggestions? Want help with complementing the color scheme of your home? We offer our customers personalized consultations. When you request a consultation, we will:
Discuss all your flooring needs, including the kind of flooring that suits your space best, for instance, water-resistant wood flooring or grey vinyl plank flooring.
Measure the space or spaces you need the flooring for.
Inspire you with a wide variety of flooring samples.
If you're content and happy with your decision, you can go ahead and place your order and arrange the fitting.
With Ultimate Floors, You're in Excellent Hands
Your flooring can significantly impact the functionality, energy efficiency, and style of your home. When you need to replace, install, or upgrade your flooring, it's vital to turn to contractors you can trust. At Ultimate Floors, we're a reputable company committed to excellence and customer satisfaction. For all your vinyl or laminate flooring needs, including grey water proof flooring, contact Ultimate Floors for the #1 superior quality flooring products on 1-800-385-5557.