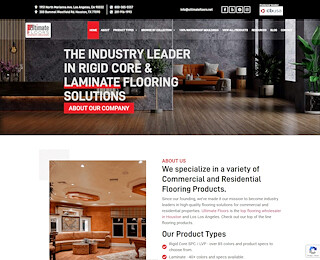 You'll find bargain prices on laminate flooring online at Ultimate Floors; save big on high-quality products designed to last for decades. If you're planning a home improvement project that includes new flooring for your kitchen, bathroom, bedrooms, or any other room in your home, we have just what you're looking for in our inventory- we even have affordable options for office and workplace flooring. Why pay more for laminated flooring when you can purchase your dream laminate at a fraction of the price you would pay at retail stores?
5 Benefits of Choosing Laminate Flooring
1. If it's been some time since you've looked at laminate options for your floor, you'll find that a lot has changed over the past few years; in particular, laminate has undergone a transformation by manufacturers. Today's laminate options include waterproof, real wood texture, and a myriad of colors that can brighten up a room or create a cozy, comfortable atmosphere. Our AC4 laminate flooring features the following upgrades:
12.3mm thickness
AC4 rating suitable for residential or commercial applications
4' x 6 1/2" size, with custom sizing available
2. Laminate flooring is manufactured in such a way that it looks identical to natural wood flooring, yet it comes at a truly affordable price. If you dream of beautiful new floors made from hardwood, a laminate product can create the look you want at a much lower cost. Combine the affordability of laminate with wholesale prices at Ultimate Floors and see how much money you'll save on your project.
3. The distressed V-Groove design of laminate planks makes them easy to install, even with no prior floor installation experience. It's hard to go wrong with modern laminate flooring that requires only the most basic tools to experience successful results. If your flooring budget includes the cost of paying a professional installer, you can cut your budget in half by laying down the laminate floors yourself. Complete instructions for installation are available in our 'Resources' section online. Feel free to download our product MSDS sheets with warranty specifications and installation guides.
4. Laminate flooring is easy to keep clean; aside from occasional dry mopping, all that is required to maintain your laminate floors are twice-yearly semi-wet mopping sessions that involve going over the laminate gently with a solution of warm water and mild dish detergent. You'll find additional information regarding the proper care of your laminate floors when you browse our website.
5. Laminate flooring from Ultimate Floors is 100% waterproof, which means spills and occasional mishaps with liquids will not ruin your flooring; however, it's important that liquid spills are mopped up as soon as possible. If you have pets or small children in the home, installing a waterproof floor can give you exceptional peace of mind.
Shop with confidence on Ultimate Floors or reach out to a product specialist from our wholesale flooring store if you have questions about our products. Custom orders are welcomed by our team, including large quantity orders for commercial or industrial locations.