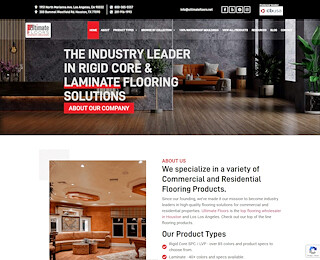 When you need to purchase large quantity flooring, Ultimate Floors will be there for you with affordable prices on high-grade Laminate and SPC Vinyl 100% waterproof flooring. No order is too big or small for us to handle, so you can order with confidence that the items you see on our website will be in-stock when you're ready to place an order or any size. You'll enjoy many benefits when you choose us as your wholesale flooring supplier, including access to the lowest prices on beautiful products that look like real wood.
5 Things to Consider When Choosing a Large Quantity Flooring Supplier
1. Most so-called wholesale flooring stores have a limited supply of items they show in their inventory. If you don't want to worry about your entire order being canceled due to insufficient supply, count on Ultimate Floors to deliver the product you purchase. We understand how important it is to deliver after a customer places an order through our website and we are 100% committed to keeping your project on schedule. Contact our store and let us know how we can assist with your large quantity order.
2. You'll save money when you work with a discount flooring company like Ultimate Floors. Paying a fraction of what retail stores charge for quality flooring is perhaps the biggest advantage of buying from wholesale flooring manufacturers. If you're on a budget and looking for the best prices on beautiful laminate and SPC materials, feel free to browse our inventory from the comfort of your home- and call an Ultimate Floors representative with any questions.
3. Make sure you read reviews left from previous customers to ensure you're buying fro a reputable large quantity flooring store. Some flooring outlet websites advertise their products as being waterproof when they are, in fact, water-resistant. Our 100% waterproof laminate and SPC Vinyl flooring at Ultimate Floors can withstand severe spills and high-humidity conditions without buckling or showing signs of warping over the years. Don't settle for a water-resistant product- choose Ultimate Floors instead.
4. Does your flooring supplier offer additional wholesale flooring services and products? If not, keep shopping until you find one that can meet your needs in full. We welcome all custom orders, including large quantity flooring orders, and we carry baseboards, casings, and crowns to complete your project.
5. Are you buying from a flooring website that offers after-purchase support or are you basically on your own after you click the 'Order' button? Out website at Ultimate Floors, offers a wealth of information and free resources to assist you before, during, and after your purchase. See our 'Resources' section to find free downloadable installation guides on SPC and Laminate products and read MSDS sheets for advanced specification information. MSDS sheets contain chemical composition and warranty specs for every product we sell.
When you're ready to get your flooring project underway, you'll find we have the best prices on quality flooring anywhere. Contact our team at 1-800-385-5557 today.