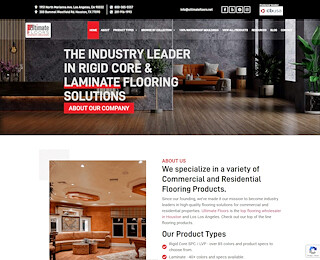 Pick-up SPC flooring at wholesale prices when you visit Ultimate Floors online. Our affordable prices on top-grade SPC vinyl and waterproof flooring make it easy and cost-effective to complete any flooring project under-budget. If you're comparing SPC floor suppliers on the Web and looking for exceptional prices on 100% waterproof products, we have what you want right here in our online store. Shop and save on every item we stock.
SPC Composite Vinyl Plank Flooring
At Ultimate Floors, we welcome you to compare price per sq ft on our flooring with other big-name retail flooring stores and see how much money you'll save when you buy from us. Not only are our prices unbeatable, but you'll save even more by completing the installation without the help of a professional. Our V-groove and Uni-click design planks are simple to assemble and install in any residential or commercial location. Step-by-step installation instructions are available to download from our 'Resources' section online.
What Makes our SPC Flooring Wholesale Products Different?
Unlike similar-looking materials, our pure SPC is made using 100% waterproof technology, from stone polymer composite containing zero paper or wood particles. The difference in construction means your SPC flooring will be around for future generations to enjoy. Our products are CARB compliant and FloorScore & Greenguard certified. At ultimate Floors, we can offer you an exceptional product at a very affordable price.
Downloadable Resources Online
Bookmark our website and return at your leisure to browse our laminate and SPC flooring inventory, read more about SPC advanced specifications, take a quick course on SPC installation, or learn about our company and our commitment to customers like you. Our knowledgeable staff is at hand to answer questions and assist with your custom order when you reach out to us by phone at (855) 230-7910. You can also contact us through our website for more convenience.
Why Choose Our Wholesale Luxury Vinyl Hardwood Flooring?
If you love the look and warmth that hardwood offers but can't justify the costs involved, SPC luxury flooring can give you the same look and feel without the high cost. Browse our exhaustive selection of SPC by clicking on one of our collections:
Country
Legacy
Dominican
Richwood
Smokey Forest
Thai
Star
Pacific
We're confident you'll absolutely love what you see as you take a closer look at SPC flooring wholesale products at Ultimate Floors. Our SPC products are manufactured with seven unique layers that combine to deliver a long-lasting product that will be around for decades to come:
Underlayment included
Bottom balancing layer
Rigid core
Top balancing layer
Decor film
Wear layer
UV coating
The SPC Difference
You may be surprised to learn that our SPC products are 10 times more impact resistant than wood flooring, making them a superior choice when shopping for a flooring material. As well, SPC is one of the most fire and water-resistant materials on the market. Why settle for anything less than the very best from Ultimate Floors? Our SPC products will save you money on your next home improvement project. Call our staff to request prices on SPC flooring wholesale products.