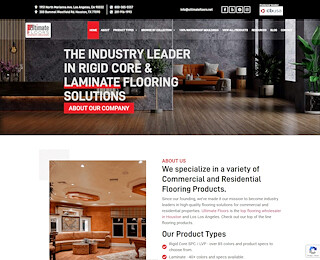 Buy water proof flooring in bulk from Ultimate Floors and save money on top-quality laminate and SPC flooring from our Web store. If you're looking for a reputable supplier of 100% water proof planks for your flooring project, you'll find just what you need when you browse our selection online. Custom orders and large quantity orders are never a problem at Ultimate Floors; we can accommodate your project, regardless of its size or scope. We offer the best cheap flooring options for bulk purchases.
Affordable, Quality Flooring in Bulk Quantities
It's easy to confuse affordability with cheap waterproof flooring that doesn't live up to customer expectations. At Ultimate Floors, we make a distinction between cheap and cost-effective. You won't find inferior products in our stock, nor will you discover manufacturer seconds being sold as quality merchandise. Other flooring suppliers often stoop to those levels; however, that's not how we do business in our flooring store. We are proud of our reputation as one of the top suppliers of 100% water proof flooring in bulk- and we're committed to your complete customer satisfaction. Browse our inventory online to see:
Luxury SPC Vinyl Plank Flooring
AC3 Residential & AC4 Residential/Commercial Laminate Flooring
Explore Your Options Online at Ultimate Floors
We have the perfect wood pattern and color to match any existing home decor- choose from one of our popular collections:
Thai
Sunny Beach
South America
Crystal
Richwood
Smokey Forest
Legacy
And many others
Save on Discount Vinyl Flooring
SPC vinyl is a very affordable option to consider when budgeting for a home improvement project. If you need cheap flooring ideas, visit our online inventory to see everything in our vinyl collection. Our product specialists are happy to assist you if you're brainstorming for your project. Feel free to call Ultimate Floors at 1-800-385-5557 with any questions about vinyl or laminate materials. Additional resources are available on our website, including informative blog articles, product specification downloads, and MSDS sheets that include the chemical composition of SPC and laminate flooring as well as warranty specs.
Easy-Installation Instructions
Download free installation guides on SPC and laminate water proof flooring in bulk right from our website and see how easy it is to create the new floor of your dreams using Uni-click plank flooring from our warehouse. You'll achieve picture-perfect results with minimum tools needed to complete your project. A few things to remember before beginning your flooring job:
In any new construction or remodel project, flooring should be the last item installed
Keep a few extra boards stored in your attic or garage in case of accidental damage
The use of underlayment on products that do not have an attached layer is a 'must'
Check to see that all seams are tight during the installation process
You'll always save money when you choose Ultimate Floors for inexpensive waterproof flooring options. Keep us in mind the next time you are thinking about replacing old or worn-out flooring or looking into a renovation for your kitchen, bathroom, bedrooms, hallways, or dining area.