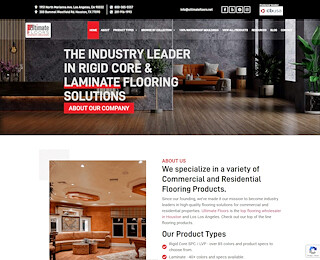 Choosing the right water proof flooring wholesaler can be confusing, especially if you've never purchased floor products in the past. Take the advice of satisfied customers at Ultimate Floors and check out our affordable flooring, available in 100% waterproof laminate and SPC luxury vinyl. You'll find our quality materials are an excellent investment in your next home improvement project; in fact, we offer the best cheap flooring options on the Web. Before you make a costly mistake, browse our exhaustive selection of beautiful wood look-alike products for every room in your home.
5 Benefits of Choosing Ultimate Floors as Your Waterproof Floor Wholesaler
1. As a flooring wholesaler, we can offer you many more options compared with a retail flooring store; browse our stock online to see beautiful laminate and SPC vinyl planks in a fabulous array of real wood colors and patterns. To get started, click on the 'Flooring' link, then select Laminate or SPC from the menu. Be prepared to be amazed by our collections.
2. Ultimate Floors can provide access to some of the best prices discount vinyl flooring when you shop through our website. Cheap waterproof flooring is typically only available in a handful of colors or styles; however, we work with multiple manufacturers to bring our customers more choices, so you'll always find what you're looking for in our Web store. Shop and save by selecting Ultimate Floors as your water proof flooring wholesaler.
3. We sell Uni-lock planks that are easy to install without the help of a professional installation company, so you'll save even more by choosing flooring from our laminate or SPC collection. Even if you've not had any experience installing flooring in the past, you'll find complete step-by-step instructions on our website make laying down our products a simple task. Visit our online Resources section to download everything you need to get started on your project.
4. If you need cheap flooring ideas, our product specialists are just one call away. Feel free to contact our team with questions about color-matching, product specifications, or pricing. You'll be amazed by how laminate and SPC flooring can add a new depth of warmth to your home that is unsurpassed by other types of flooring- even carpeting.
5. Ultimate Floors is a source for more than just inexpensive waterproof flooring options- at Ultimate Floors, your successful home improvement project is our focus, and we know that it depends on our ability to deliver a high-quality product at a price that fits your budget.
The name Ultimate Floors is synonymous with value and exceptional customer satisfaction. When looking for a reputable water proof flooring wholesaler, you need look no further than our online store to find flooring, baseboards, casings, and crowns to enhance the appearance of your home, office, or workplace. Quality laminate and SPC luxury vinyl flooring can increase the value of your home and deliver a high return on your investment- up to 75% ROI, according to real estate experts.